Wendy Blowers - passing
Dec. 1
This news is posted with great sadness, as Wendy Blowers passed away on Friday after a private battle with liver cancer. Wendy's friendly smile and cheerful voice will truely be missed at the races. Condolences go out to her family and friends.
Calling hours will be held at Benz, Rossi Funeral Home in Amsterdam NY, on Monday Dec. 2, from 4-7pm. Her funeral is on Tuesday.

Banquet Cover Photo
Nov. 5

We are looking for a cover photo for the Awards Banquet program. If you have a photo that would make a good cover photo send it to Mike Dougherty fast5325@aol.com

If your photo is used you'll win a free banquet ticket or 2014 CNYMRA membership!

Awards Banquet - Jan 4. ~ 4-10pm
Nov. 4

The 2013 CNYMRA Awards Banquet will be held at the Harts Hill Inn in Whitesboro, NY on Jan. 4. Awards will be given to the top five in most classes except the following which will pay three places (due to fewer racers competing in them over the entire year):
50cc 4-6
125 2stroke
+25Ex
+25 Quad
+30Am
+45Ex
Mini Quad 50
Quad Schoolboy
Quad Schoolgirl paying 1st place
The ticket order form is available HERE.

Final 2013 Points
Oct. 13
Final 2013 Season Points update HERE.

Vote for TOY and 2014-15 Rider Reps

Vote now for your 2014-2015 CNYMRA rider reps and 2013 Track of the Year. Every CNYMRA member may vote for up to six rider reps, but you may only vote once. Vote HERE.

MotoMasters Results
Sept. 24

MotoMasters 9/22 race results HERE.

Season Points update HERE.

Broome-Tioga Results
Sept. 16

Results from NYS Championships at Broome-Tioga HERE.

Season Points update HERE.

2014-15 Rider Reps Nominations
Sept. 7

Nominations for 2014-2015 CNYMRA rider reps are being accepted. If you want to be involved with D3 and represent the riders' interests please complete the nomination form HERE.

Thunder Ridge Results
Sept. 5

Results from 8/31 at Thunder Ridge HERE.
Results from 9/1 at Thunder Ridge HERE.

CNYMRA Riders at Unadilla
Aug. 11

Bob Kiniry 39 grabs a great start in moto 1.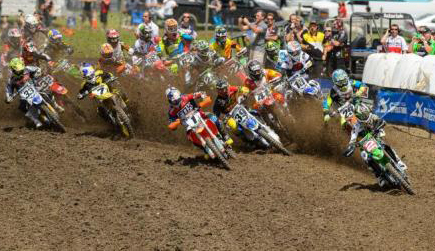 Bobby ran in the top 5 in the first moto before a mechanical issue resulted in a DNF. He finished 17 in moto 2.
RJ Beck (250 class) and Mitch Dougherty (450 class) also qualified for the mains!
Kiniry & Stryker - Dilla Press Day
Aug. 9


Broome-Tioga Results
Aug. 9

Results from the 8/4 race at Broome-Tioga are posted HERE.
Loretta's Update
Bristol 3rd, Putman 8th
Aug. 3

Andy Bristol earned another coveted medal at Loretta's with a third in the final moto of the 450A class! His 5-3-3 moto finishes garnered him a third place overall finish.

Zach Putman stayed consistent in a muddy 3rd moto to earn an eighth overall position in the 2-stroke class. Congratulations, and great job representing the CNYMRA!

All final results can be found HERE.
Loretta's Update - Bristol top ten!
Aug. 2

Bristol takes 9th overall in the Pro Sport class. Congratulations Andy, great ride!
---
Aug. 2

Andy Bristol makes the podium in the 450 A class with a 3rd in moto two! His 5th in moto one puts him 3rd in his class with one moto to go!

Andy also has an 8th and 12th place finish in the Pro Sport class, putting him in the top ten thus far in this class as well!!

Zac Putman placed 9th in moto one of the 2-stroke class and 10th in moto two. He sits tied for 7th in the overall standings heading in to the final moto!

All results can be found HERE.

Desormeau & Bristol at Loretta's
July 28

Good luck guys!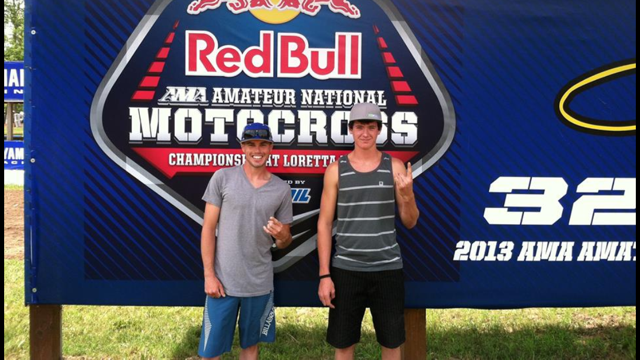 Points Update
July 24

2013 Season Points are updated HERE.

MotoMasters Results
July 23

Results from the 7/21 race at MotoMasters are posted HERE.

Frozen Ocean Report
July 15

Frozen Ocean hosted some great racing on Sunday, with a well groomed track, an excellent turnout of racers, and a 250% payback for Experts!! Kudos to Bill Denman and his staff.

Results from the 7/14 race at Frozen Ocean are posted HERE.

Frozen Ocean Results
July 1

Results from the 6/30 race at Frozen Ocean are posted HERE.

Frozen Ocean $2000 Prize Day
June 29

Season points updated through Royal Mountain on June 23 are posted HERE.

Frozen Ocean $2000 Prize Day
June 26

Sunday race day at Frozen Ocean will include a great day of prizes!

$2000 in Dunlop Tires will be given away by CNYMRA along with another $1,000 in other prizes. Don't miss a great day of racing and your chance at the prizes!!

Loretta Lynn's Qualifier
June 10

Congratulations to Hunter Layton who has "punched his ticket" to Loretta Lynn's in the 65cc (7-9) limited. Hunter recoverd from a 1st moto crash with wins in the second and third motos; an impressive accomplishment!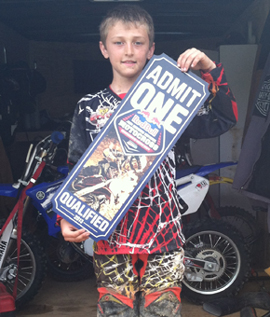 Royal Mountain results
May 28

Race results from Royal Mountain, May 25.
Race results from Royal Mountain, May 26.

Pro Moto Update
May 21
CNYMRA Rider Down
May 10

Cody Cooper #92, a well known rider for both CNYMRA and WNY is currently fighting for his life in ICU at Upstate Med. Center. He crashed while practicing at his home in Hannibal and has been left with seven broken ribs, a lacerated spleen, liver, kidney and both lungs have collapsed.
Kind thoughts and prayers are needed and appreciated. Get well Cody!

Points update
May 9

Season points thru May 5 posted HERE.

MotoMasters results
May 6

Race results from Motomasters, April 28. Race tba from Thunder Ridge, May 5.

$2000 Prize Giveaway Day
April 29

Racers, mark your calendar as CNYMRA and Unadilla will be giving away $2000 in prizes at the Double Points race on Sunday, May 12!

Don't forget to check your email on a regular basis as more details will be sent to all district members soon!

Broome-Tioga results
April 22

Race results from Broome-Tioga April 20. Race results from Broome-Tioga April 21.

Frozen & Broome results
April 15

Race results from Frozen Ocean April 6.
Race results from Frozen Ocean April 7.
Race results from Broome-Tioga April 14.

Loss of D3 racer
March 17

It is with sadness that news of the loss of another young CNYMRA member is posted. Stan Pawlikowski IV, CNYMRA racer # 535 passed away from accidental carbon monoxide poisoning. Condolences go out to all of Stan's family and friends. He will be missed by all. Godspeed Stan!

We honor you with a photo in the Gallery of Champions!
Notices
Feb. 24

2012 Champions who'd like a picture added to the slide show should send a nice color image to the Webmaster gnighman@gmail.com
Final 2012 CNYMRA Points
Nov. 8

The final 2012 CNYMRA points have been tabulated and are posted HERE.
NYS Championship Pics
Oct. 8

Check out Jim Sanderson's photos from NYS Championships at Broome HERE
Fozen Ocean
Sept. 10

Thanks to the Denmans for providing a great year of racing at Frozen Ocean. Yesterday's track was nicely prepared as it has been all year! Results HERE
MotoMasters racing
Aug 27

Racing at MotoMasters was excellent yesterday! The crew kept the track well watered so that traction was up and dust was down. Results are HERE.
Loretta's Live Race Results
July 28

You can follow laps and results from the the races at Lorretta Lynn's live HERE.
$2000 Giveaway at MotoMasters
July 24

- Double Date Races!

On Saturday their will be a dash for cash in memory of Brian Cook # 840. The dash for cash 50 /50 split will be donated to the Cook family and the winner..

On Sunday there will be a rear tire give away in every bike class. Randomly selected quad classes will also win tires.
Kudos to Thunder Ridge
July 23

Thunder Ridge provided a great race track yesterday. The track crew did a great job of advance track preping and grooming/watering on race day. The addition of some new safe and fun jumps was a bonus. Kudos! Results tba
Loretta's Qualifiers
July 15

Congratulations to Scott Phelps, Dennis Baldwin and Gene Nighman. These Vet riders have qualified for Loretta Lynn's in the +40, +45 and +50 classes respectively. Good luck at the ranch!!!
Central NY Rider - Sad News
July 10

Brian Cook, a CNYMRA rider, died when he was struck by a drunk driver while assisting a driver with vehicle problems along the roadside. Details of the tragic incident are unknown at this time.

"Cookie" was one of the nicest young men in the district we were lucky enough to have ever know! He will be missed for many, many years to come.

Calling hours are tonight from 4-7 in Tully, NY.
Frozen Ocean - Dash for Cash
July 2

Frozen Ocean will be running a $250 "Dash for Cash" on July 8. First place $150 and 2nd place $100.

The track was planted with oaks after the last April event so the soil is moist, well grromed and ready to race on.
D3 Loretta's Qualifiers
June 27

Congratulations to Dawson Driscol and Tyrick Wheeler. Dawson qualified for Lorretta's in 85cc stock & mod as well as 65cc stock & mod. He has the luxury of choosing 2 of the four classes to run at Lorettas! Tyrick Wheeler qualified in the 50cc 7-8 class and Hunter Layton qualified for his second class, the 65cc 7-9 stock a class. Good luck to all of these fine D3 riders!!!
First Loretta's Qualifier
June 21

Congratulations to Hunter Layton! He is the first CNYMRA racer to qualify for Lorettas this year. Hunter WON the SE Regional in the 50cc 7-8 class.
Season Points Update
June 13 - Points HERE.

At the 6/12 board meeting, the validity of rider points for the April 7 race at Broome-Tioga was discussed, voted on an passed unanimously.

Those points will be added to the points book and an updated points tally will be posted here on the website soon. Thanks for your patience!
Double Dates at Unadilla
May 14

This weekends CNYMRA schedule features two full days of racing at Unadilla. Each day is a separate event.

In addition, each day features Area Qualifer races for the LL Northeast Regional at Steel City. Schedule HERE.
Thunder Ridge
May 14

Thunder put on a great two days of racing on May 12-13. Nice track changes and multiple breaks for grooming each day made racing great!

Results coming soon!
$2000 in extra prizes given away at
Unadilla this Sunday, April 28
April 23

This Sunday's race at Unadilla will be a special prize give away event courtesy of CNYMRA & Unadilla. $2000 in prizes including goggles and Lucas oil (4-stroke & 2-stoke) given away. Many racers will leave Dilla' with some FREE swag. The event will also feature a 100% effort award.

And, Unadilla 2 will feature two new track sections in 2012!

This special prize givaway race is one of six for 2012 (one at each D3 track)!
2 Days of Races at Frozen Ocean
April 13

Don't miss the "Big Double" weekend at Frozen Ocean. Two full days of racing where each day is a separate event, with CNYMRA Double Points on Sunday! Double the races and double the points!

And, be in on the Bonus Giveaway at the Ocean. One rider from every class with 10 or more riders will be eligible for a $10.00 gift certificate.
Membership Note
Thanks to those who have already renewed! The 2012 guide books and membership cards will be mailed next week. Application is available HERE.
2012 Rules Amendment
Feb. 13

The rule requiring riders to compete in two races at each track to qualify for year-end awards has been repealed. No minimum race attendance is required in order for riders to compete for points and prizes!